Clover Sonoma continues to nuture a centry-long partnership with small, family-run dairies
By: Leilani Clark   Source: Made Local Magazine .  Date: March 2017
It's Tuesday afternoon in late January, and a surprisingly strong afternoon sun shines across the rolling hills surrounding the Buttke Dairy in south Sebastopol. Without a doubt, the beauty of this golden hour would make even Werner Herzog smile. The afternoon milking session has started, and rancher Nick Buttke takes his visitors to the barn, where 10 black-and-white cows stand placidly attached to automatic milking machines. Behind a gate, more cows wait in line for their turn. Across the way, Buttke's two oldest sons, Nicholas and Lane, toss around a basketball in the driveway of a snug, well-apportioned home. Two younger boys, Mason and Brody, follow their dad around the barn as they cuddle five-week old puppies. The scene feels satisfyingly wholesome, even bucolic, the way city people imagine life on a ranch to be.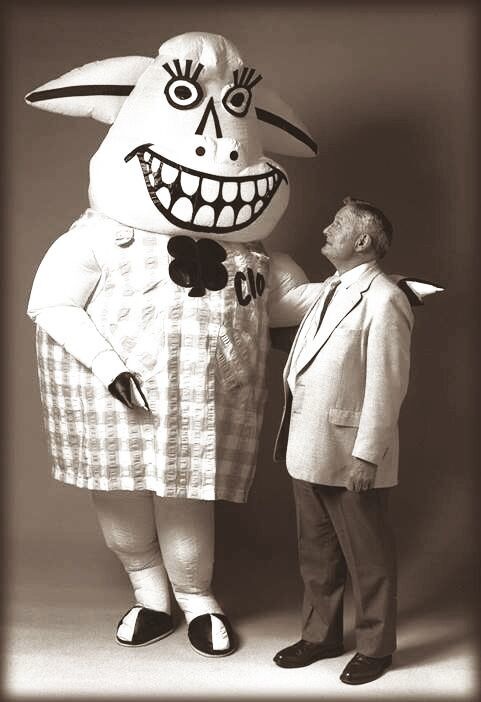 Let's not forget: Dairy ranching is hard work, Buttke says, interrupting the rural reverie. Milk prices fluctuate. Water regulations come down to bear. You don't get to take a week off at Christmas. It's a life he knows well; he grew up here on 320 acres of rural leased ranch land, watching as his parents Doug and Judy, both children of dairy families themselves, built a dairy business from scratch starting in 1977. About a year ago, Buttke bought it from his parents, who were ready to retire after 40 years. (They still live on the property, in a double-wide trailer home next door to their son, his wife Amber, and the grandkids).
Now, Buttke owns and manages 150 milking cows, and another 150 heifers, calves, and bulls all grazing on a few hundred acres of good, green grass. He sources 1,100 gallons of milk a day exclusively to Clover Sonoma (the name was officially changed in March 2017 from Clover Stornetta Farms), a partnership that began in 2013. Soon, a Clover truck will arrive to siphon out the raw milk that's funneling into a stainless steel vat, to be deposited into one of the high-tech silos at the bottling plant near downtown Petaluma. It is hard work, but running a dairy was her husband's life dream, says Amber, who does all of the bookkeeping duties in addition to running her own skincare business. He wanted to give his children the same quality of life—and work ethic—that he grew up with.
"I like being able to raise these guys like I was raised," says Buttke, wearing a red baseball cap and striped Ben Davis work shirt. "The kids wash the barn, feed and move the cows, just like I did."
Up on this hill, the Buttke dairy stands as one of the last remaining dairies in Sonoma County—one of an estimated 88 or so left over from a dairy heyday when the county was home to hundreds of small operations. The contract with Clover, one of the largest processors in Northern California, is a large part of why the Buttke family has been able to remain in business, six generations after their family got into dairying.
The Buttke Dairy is one of 29 farms in Sonoma and Marin Counties that sources exclusively to Clover. These small family farms carry on a 150-year-old tradition of dairy farming in the North Bay. In the 1800s, immigrants from Portugal, Italy, Switzerland, and other European countries migrated north of San Francisco, drawn by the temperate climate, abundant waterways, and grassy hills—all prime conditions for raising dairy cows. Dairy became a leading enterprise and established Sonoma County's quality agricultural reputation.
Still, dairy farmers were good at producing milk, but they weren't so great at getting it to market. In 1916, the Petaluma Co-operative Creamery was established as a way to turn the raw milk into value-added products. Soon, they were producing butter and powdered milk under the Clover brand. By 1929, the creamery had expanded to pasteurized milk, bottling about 50 quarts on the first day.
From his tidy, windowed corner office in Petaluma, Marcus Benedetti, Clover's president and chairman of the board, recalls the story of how his grandfather Gene Benedetti came to work for the Petaluma Co-operative Creamery.
Born and raised in Cotati by Italian immigrants, the elder Benedetti went on to become a decorated military veteran. After returning home from World War II, Gene wanted to coach football. Life had other plans. At the time, the general manager of the Petaluma Co-operative Creamery was looking for a field man to act as a conduit between Italian-speaking dairy families in the area and the co-op. Gene was recruited as a milk buyer for his ability to speak fluent Italian and his business sense. It was a job for which he had a natural acumen, says Marcus Benedetti.
In 1955, Gene was promoted to general manager, a position he held until 1977. Under his watch, Clover expanded into new markets and developed their infamous mascot Clo the Cow; the punning bovine first appeared on a billboard in 1969, an advertising legacy that continues to this day. Then tragedy struck. On August 22, 1975 most of the facility was destroyed by what remains the largest fire in Petaluma's history. By the time the flames were extinguished, the blaze had claimed the bottling and processing plant.
The co-op decided not to rebuild. Gene, on the other hand, wasn't ready to give up. He bought the Clover brand name and set out to build a business with nary a bottling plant in sight. The leap meant taking out a second mortgage and convincing key players to join him.
"At that time, he was a formidable lion in the industry and a naturally gifted leader," says Marcus. "He was able to convince people to go along with the experiment."
With that, Clover Stornetta Farms was formed. Marcus' father Dan Benedetti also became one of the nine original partners. It was a choice, he says, between joining the family business or moving to an off-the-grid life in Alaska.In the summer of 1977, Gene partnered with Al Stornetta, who had a small Jersey herd outside of Napa and a small glass-bottling facility. The partnership allowed Clover to gain a market share in the Sonoma and Napa Valley (at a time when dairies were still highly regionalized and not yet consolidated by big ag operations), and provided a place to process and bottle the milk.
"My parents were proud hippies and products of the '60s," says Marcus. "But, instead of going to Alaska, my dad decided to join the business."
According to Dan Benedetti, the original nine founders oversaw the bottling of 17,000 gallons of milk a day. In 1992, Clover built a larger, modernized bottling plant in Petaluma. The fully automated facility allowed for a tripling in output. Clover now processes upwards of 100,000 gallons of milk a day, on a 24/7 schedule.
"It was literally survival back then, now it's growth," says Dan, a spry 60-something in an SRJC sweatshirt, sunglasses, and baseball cap over his gray hair.
"We were the brawn and Marcus is the brains," he adds with a laugh.
Since those early days, Clover has expanded beyond milk and butter into 10 different product categories, including cream, ice cream, cheese, and yogurt. They're distributed mainly in California with some retail clients in Arizona, Nevada, Oregon, Hawaii, Utah, and Wyoming. In 2016, revenue hit $200 million. To accommodate for expansion, a new 64,000 square-foot distribution center opened in Petaluma in December 2016.
Without a doubt, Dan Benedetti's counter culture, "hippie" attitude ended up having a big influence on Clover's direction, investments, and overall vision. Take, for example, the company's decision not to buy milk with rBST, the synthetic growth hormone introduced by Monsanto in 1994. The controversial hormone was pushed as a way to maximize growth and output in dairy cows. Clover, in a move that would set the stage for future business practices, became the first dairy processor in the west to reject rBST. Instead, the company launched the North Coast Excellence Certified (NCEC) program, a set of guidelines and incentives for ranches that follow certain criteria for animal welfare, sustainable ranching practices, and environmental stewardship. Eventually, Clover started sourcing exclusively from local family-run dairies, that signed contracts and affidavits legally binding them to abide by the clean milk rules.
Dan Benedetti took the standards one step further in 1999 when Clover became one of the first U.S. dairies to enter into the organic market. One year later, they became the first U.S. dairy to be American Humane Certified. This means an independent, third-party approved inspector has certified that the cows on Clover dairies have access to open pasture, clean water, plenty of walking area, shelter from inclement weather, fresh grass, hay, grains, and clean bedding.
"The growth hormone was a lightning rod issue that gave people pause," says Marcus, who succeeded his father Dan as president in 2006. "If this could happen, in theory, what else could already be happening? Now, a mom with two kids has to become an expert in dairy? We recognized that we had a real obligation and an opportunity to become a thought leader and attack those issues for moms that just don't have the time to do that."
The company also started looking at issues beyond growth hormones and antibiotics—or, what's trendily known these days as the triple-bottom line. How were farm families being compensated economically? How were the animals being treated? Could families survive to hand down businesses through the generations?
"It was like, okay, game on, if we are going to do this, we need to go all the way," says Marcus, who lives in Petaluma with his wife, a special education teacher, and their three children.
In 2016, Clover announced that starting in 2017, all half-gallons of conventional milk would be certified GMO free, a move that's not surprising considering the company's past decisions. Despite a lack of consensus on the GMO issue, Benedetti says the decision to move away from genetically modified feed was a natural progression.
"There are a growing number of consumers that are concerned about the ambiguity around the [GMO] issue," he says. "There is no concrete evidence one way or another that will absolutely put consumer anxieties at ease. Our history has been to provide an alternative choice to the market. If the consumer is concerned, it's our obligation to provide a solution. All the other stuff is just noise."
"Clover is a great study for how to do the dairy business right," says Robert Eyler, a professor of economics at Sonoma State University. "They are a great case study for how an agricultural business goes through volatility and perseveres in an amazing way, not just surviving—but thriving—in new market conditions."
Eyler credits Clover for prioritizing the welfare of their employees (the company was recently certified as a B Corp), and sustainability, and their ability to smoothly integrate the entire supply chain—raw materials, manufacturing, distribution, and retail. The company employs more than 250 people in the North Bay.
"Clover's ability to buy milk from local dairies has probably kept a lot of local dairies in business," adds Eyler. "They have been the prime buyer of that milk, and they've been able to keep local dairies going at a time when there wasn't a large market for milk, not to mention fluctuating milk prices."
Doug Buttke, who signed on with Clover in 2013, agrees. After being dropped by Safeway, Inc. the same year when it decided to source its milk from one large co-op, he was glad
to sign on with a local company. Plus, Clover treated them as more than a "number," says Judy Buttke. Ultimately, the partnership allowed the dairy to stay afloat, meaning it could be passed down to the next generation.
"The reason the grass is green is because of these cows right here," says Doug Buttke."You start getting rid of all of the dairies and everything is going to change and not for the better. The dairymen put a lot of money back into the community. They support the feed co-ops, the dairy supply stores, there are a lot of people making money on us."
For Marcus Benedetti, this holistic approach to running a business is essential. He's got dairymen and women, families, truck drivers, distribution center workers, and processing plant employees depending on him. Not to mention the customers who want to feel confident that they're feeding their kids clean milk.
Like Nick Buttke says, it's hard work.
"Holistically, there's so much that goes into [running Clover]," says Benedetti. "It would be easy if we were detached, right? But we are intimately connected with a whole lot of people, institutions, and organizations. It would be one thing if we were picking up the phone and ordering raw milk from a co-op, if we didn't know where it comes from or the people that produce it. In my mind, we have an obligation. That pressure, that sandbox, is helpful."